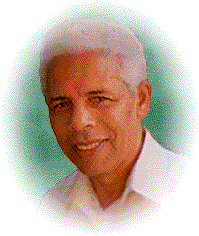 Cabo Verde (Cape Verde) -- source of some of the most beautiful music on earth -- is an independent island nation off the coast of West Africa. Formerly a Portuguese colony, it is poor in natural resources. For generations, its inhabitants have been forced to leave their islands in search of work.

Their longing to return to their homes and loved ones is expressed in songs called "mornas," the most famous of which is "Sodade," sung by Cesaria Evora and written by Amandio Cabral.

Cabral, born in Sao Nicolau, Cabo Verde, is the composer and singer who first took Cape Verdean music to Europe and beyond. By bringing the morna and other Cape Verdean music to worldwide audiences, he paved the way for Cesaria Evora, Fantcha, and the many other Cape Verdean musicians who would follow him -- and who sing his songs today.

Since 1965, Amandio Cabral has made his home in San Francisco, where he has carved out a second career as a jazz composer and performer, and where he is known for his unique fusion of jazz and Cape Verdean rhythms.

And he is honored in Cabo Verde. In the summer of 2000, in a moving ceremony marking the 25th Anniversary of Cabo Verde's independence, the Republic of Cabo Verde awarded Amandio Cabral with a special medal for his contributions to Cape Verdean and world music. (See news and interviews).

In these WebPages, you will be able to purchase some of Amandio Cabral's music -- as performed by pianist Larry Dunlap, the Larry Dunlap Quintet, other talented jazz musicians and Amandio Cabral himself -- and follow links to other sites that we think you might like. Enjoy!



JAZZ!
Larry Dunlap Quintet plays Jazz Impressions of Amandio Cabral songs

Why Not Forever
Larry Dunlap piano solos
music by Amandio Cabral

Jazz das Ilhas / Island Jazz
Just Released. Jazz impressions of Amandio Cabral's music by various artists.

Um Caboverdeano Satisfeito (A Satisfied Capeverdean)
songs of Cabo Verde composed and sung by Amandio Cabral

Fly With My Love
Larry Dunlap and his group interpret Amandio Cabral classics, including Sodade.